The ultimate guide to Zero Talent Waste and candidate screening
The ultimate guidebook to Zero Talent Waste and uncapped recruitment, including all the resources from the candidate screening webinar.
What is Zero Talent Waste?
Zero Talent Waste turns the recruitment process upside down
Zero Talent Waste means using technology to take a science and data-lead approach to recruitment. To do this, we need to turn the talent acquisition pipeline upside down and put data to work in the initial, subjective and manual parts of the recruitment process, by assessing all applicants right at the beginning – at a fixed cost.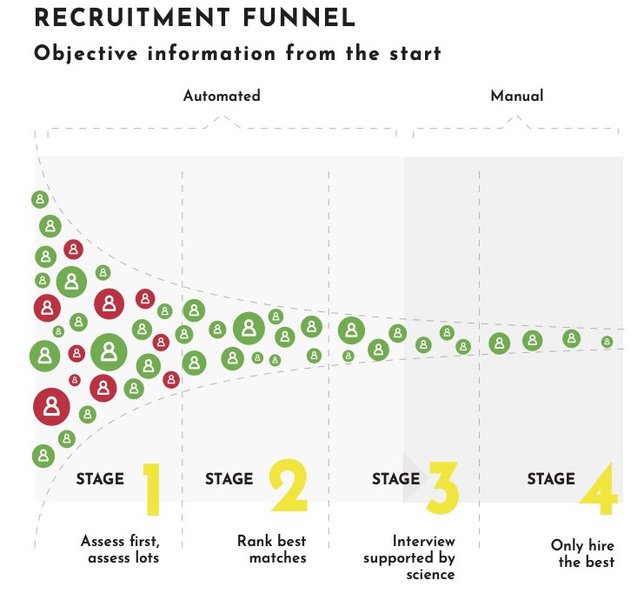 Zero Talent Waste gives everyone the opportunity to demonstrate their potential. It reduces bias by first assessing objective, measurable criteria with the strongest predictive power. It relies on online technology to automatically rank applicants, provide candidate feedback, measure competency role fit, analyse group dynamics and more. That's not to say that interviews and hard screening don't feature in the process; however, they are balanced with scientific, objective criteria.
The first two phases of the recruitment funnel are completely automated and talent led. Shortlisted candidates are interviewed using their talent insights to improve process efficiency and outcomes.
The impact of Zero Talent Waste
The ROI is clear: Zero Talent Waste follows a more time and cost efficient process, particularly for high-volume roles. It's more fair, reliable and valid, and most importantly, we're not excluding talent because they are poor at interviews or because they still have to develop certain in-job skills
Zero Talent Waste resources
We've put together our top learning resources for Zero Talent Waste.
Watch the webinar for Zero Talent Waste: The Pathway to Uncapped Recruitment: