How Agile are South African Leaders - Agile Leadership Unlocked
How agile is the leadership of your organisation, and what stands in the way of them becoming more agile? See the answers and other notable outcomes from the Agile Leadership Unlocked panel discussion.

Key Outcomes from the Webinar:
Strategy and Clarity of Purpose are Key to Creating an Agile Culture
The "agility gap" refers to the disconnect between the need to be more agile and the ability to do so. To bridge the gap, the organisation needs to build an agile culture. But where to start?
Pat Smith shared her learnings as Talent Management Manager of PEP: "We didn't one day wake up and say we are agile. It is inherent in how PEP has put together its culture, values and how we do things. It starts with the people we recruit and bring on board. Once you are there, what does the organisation have that enables it to be agile? Agility is about psychological safety, being able to experiment and make mistakes, and feeling like you have support. We have this amazing culture of cheerleading and ensuring people feel supported by the organisation. Over the years, the leaders we have selected have embodied that same spirit: we are here, we listen, we communicate, and we act quickly, knowing that we have the support around us."
"Agility is about psychological safety, being able to experiment and make mistakes, and feeling like you have support." - Pat Smith
According to Kurt de Bique, Senior HR Business Partner and Learning Manager from Maersk, everything starts with strategy, and transforming the business based on the needs of customers and the market. "A number of years ago, we realised that in order to change, we need to ask people to do different things, and try things they have not done before. The change in strategy sparked the agility journey in Maersk. The biggest indicators of this are the significant growth that we are seeing in these new business areas and divisions. This shows you that our people are adaptable and can transform to support something completely new. That's not easy in an organisation with 80,000 employees across 130 countries. It's really about scaling agility, making it very explicit and measuring people across all of our people processes to support the business."

Dr Jonathan Louw, Group CEO of Honoris United Universities, weighed in by indicating that the change in strategy doesn't need to be complicated. If organisations have clarity of purpose, they can structure a number of key metrics to measure their success against. From these metrics come agility: how do I think out the box to meet these goals?
"Give the organisation the strategic framework and flexibility to fail forward: to try and fail and not be castigated. Likewise, it is important to hire a critical mass of individuals with an agile mindset; they can influence others and create a safe environment to become more agile."
You Need to Lead by Example to Get Buy-in
Jonathan Louw shared that structure has an important role to play in generating agile results and helping people to know what to expect. "My key point is that, in order to develop agility, you certainly do need structure. I've generally found in my career that structuring management meetings, talking about what you are going to be discussing, preparing adequately, reading the information beforehand, setting a proper agenda, and then not going into people's personal time… I find that elements of structure actually increase agility and accountability, as people then start to read the documents instead of having death by PowerPoint. We've all read the documents, now let's talk about it. That encourages a more agile mindset and develops innovation."
"Where we have enjoyed the most success in organisations is when they identify a champion, someone who buys in, sees the need for agility and acts as a change agent and role model." - Jaintheran Naidoo
Jaintheran Naidoo also shared his perspective on helping leaders buy-in to agility: "Where we have enjoyed the most success in organisations is when they identify a champion, someone who buys in, sees the need for agility and acts as a change agent and role model. Where we see reluctant leaders, it is helpful when their own leader has embraced agility and set an example by going through the journey themselves. I've been in many debrief situations where it is satisfying to guide the individual toward that aha moment where they see the benefits of their efforts to improve their agility and performance overall."
Agility Makes a Difference during a Crisis
Pat Smith shared more about how PEP responded to the KZN riots by focusing on people first. "All our dynamos (employees) were heroes during this process and in adversity forged strong bonds. People Agility is the core of the PEP business. We find this in every part and how we respond. It is always together as a team".
"Never waste a good crisis. It can bring out the very best in people and force them to collaborate." -

Dr Jonathan Louw
From Kurt de Bique's perspective, agility came to the fore during the unfolding of the COVID-19 lockdowns in a global business. At Maersk, they started to see the impact in China and on trade at the beginning of 2020 and took steps to create contingency plans and prepare for working from home before it was enforced. "It was visionary leadership, anticipating what is happening outside, what does it mean for us, how do we prepare? There are so many events, and we don't know exactly what will happen. But the best we can do is anticipate what is going to happen and follow the trends. If you want to be agile, you really need to think about what is happening outside, and if you have teams you are leading, you need to make sure they are thinking about this and aware of what is happening in the global context, because it will ultimately impact us."
Agility can be Measured and Developed
A comprehensive, valid and reliable measure of learning Agility is the gold standard for obtaining objective insight. However, there are also other common-sense methods to gain insight into your own agility.
"It's really about scaling agility, making it very explicit and measuring people across all of our people processes to support the business." - Kurt de Bique
According to Jaintheran Naidoo, "the most basic way is to rely on the individual to reflect on their performance and outcomes, and determine if they have been agile by comparing their behaviour against the benchmarks of agility. You could then take this a step further and ask for informal feedback from individuals who work closely with you or make it more formal by gathering anonymous feedback in a structured way. All these mechanisms still rely on perceptions from yourself and others. You can make it more structured by looking at objective measures of Learning Agility via psychometric questionnaires, which will provide a quantitative view of agility. One of the great things about Learning Agility is it can be measured, reflected on and also developed."

Building an Agile Culture has a Direct Impact on Business Performance
"An organisation has an agile culture when its environment is inclusive of attitudes, values, and practices which enables it — and its teams and individuals — to manifest being adaptive, flexible, and responsive to complexity, uncertainty, and change." – Scott M. Graffius
Numerous studies have found statistical evidence to support the instincts of CEOs and executives around the world: Leadership Agility and Organisational Agility are key for effective business performance.
In the 2020 State of Agile Culture Survey (Agile Business Consortium), organisations that built a very strong agile culture saw a performance improvement of 235%. The same survey reported additional clear benefits, including 70% faster time to market, 25% cost savings and 40% improved productivity in delivery.
Investing in an agile culture takes time and commitment, but it pays off at each stage of growth. As an agile culture matures, better performance is obtained through employee commitment in place of employee compliance. As the culture matures, the focus shifts from the individual ("I") to the team ("We") and findings show that employees' engagement with their role increases.
Leadership is a core element of building an agile culture. When agility is first highlighted as a core need or value of the organisation, it needs to be translated from theory into practice by the everyday actions of leaders. This is supported by survey findings, which show that lack of leadership awareness, understanding and support is the largest impediment to changing to an agile culture.
The key question that comes to the fore is: How can leaders live these agile values? First, by practicing agile behaviours within themselves, and second, by working to instil these behaviours in their team. A large part of this is to create an environment of agility by making employees feel safe to share, collaborate, experiment, innovate, take risks and fail.
There is a Clear Need for Leaders to be more Agile
When polled, 49% of delegates reported that there is a need for their leadership to become more agile, while one-third of delegates felt that their leadership were on the agility journey.
These findings show that agility is an area of focus in South African organisations, and that, while some leaders are actively working on being more agile, many need to catch-up to avoid being left behind.
During the webinar, a follow-up audience question asked: What stands in the way of your leaders becoming more agile?
Results showed that the top two obstacles are willingness and knowledge, followed by systems and priority. Interestingly, budget was one of the lowest obstacles to agility.
Willingness and knowledge are interlinked and can be addressed simultaneously by educating the organisation and its leadership on Agility, what it is, what it looks like in practice and why it is important. Providing leaders with insight into their own Agility is another method to obtain understanding, buy-in and support. After all, awareness is the first step to change.
According to Jaintheran Naidoo, "organisations don't wake up one day and suddenly realise they need to be agile. All organisations are in different stages of their agile journey – from it being built into the DNA to never having considered it before. While it takes an agile culture to self-reflect, you need to start somewhere."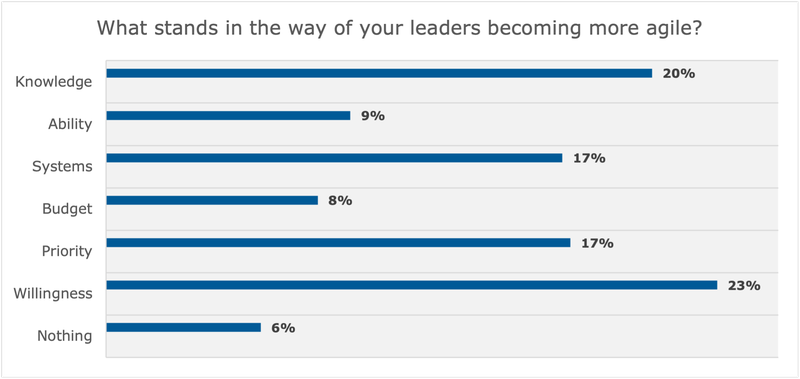 About the Panel
Honoris United Universities: Dr Jonathan Louw, Group CEO
Jonathan Louw, MB.ChB, MBA, is the Group CEO of Honoris United Universities, the largest Pan-African Tertiary Education Institution with over 60,000 students. He is a member of the South African National Dept. of Health's Pricing Committee, which regulates the Country's healthcare pricing. Prior to this, Jonathan was the CEO of the South African National Blood Service (SANBS). He was also a Managing Director at one of the largest private equity firms in the Middle East, raising and deploying $1bn in hospitals and diagnostics in global markets. He worked across the business assisting Partner Companies with improving operational, financial, ESG and workforce performance. Prior to this, Dr. Louw worked at Adcock Ingram Holdings Limited (JSE:AIP) and was the CEO from Jan 2003 until May 2014.
Maersk: Kurt de Bique, Senior HR Business Partner, Learning Manager and Coach
Kurt is a collaborative, agile and customer-orientated Senior HR Business Partner with 16 years' HR experience in multinational organisations. He has worked in the media sector and the Oil and Gas sector, where he spent 11 years fulfilling a wide array of HR roles across Africa for the Oil giant, Chevron Corporation. In 2013, he was selected onto Chevron's prestige's International HR development program, where he spent 2 years working in San Francisco and Houston in the USA. In 2017 he moved to Maersk, the largest container shipping company in the world, and is currently Senior HR Business Partner for Maersk Africa Operations. He also leads various learning leadership, and team engagement interventions. Kurt is a qualified Management coach and works in areas of leadership and career coaching.
PEP: Pat Smith, Talent Management Manager
Pat Smith joined PEP in 2012 as Talent Management Manager. She has a vast amount of human capital experience, with a specialisation in the retail space. After completing her Masters of Science (M.Sc.) specialising in Counselling Psychology, Pat started her career as a Psychologist in Westville Prison. Her corporate experience includes tenures at Old Mutual and Woolworths where she fulfilled leadership roles in People Resourcing and Human Resources. She is skilled in talent management, organisational design, transformational HR, leadership, development and coaching.
Lumenii: Jaintheran Naidoo, Director & Senior Psychologist
Jaintheran Naidoo is the Director of Lumenii South Africa, which provides assessment solutions and consulting with a focus on harnessing talent through technology. He is a registered industrial/organisational psychologist with over 20 years of experience in the IO space, including both the private and public sectors. His areas of passion lie in management/leadership development, training facilitation and talent management strategy. His work has taken him around the world, where he has facilitated HR interventions in countries such as Australia, Malaysia, Hong Kong and Mauritius. Jaintheran has led the Lumenii professional delivery team since 2016 and, together with the team, has successfully implemented numerous large-scale, innovative talent management projects for clients across various industries. A significant number of these have been around transformation to an agile culture and development of leadership capability.