8 Top HR and Talent Trends to Watch in 2023
2022 was a tumultuous year, but also a year of post-pandemic recovery for many businesses. Here are the top eight talent management trends on the rise in 2023:
A Positive Candidate Experience and Clear Employer Brand will make the Difference in Recruitment
Candidate and employee experience have been top of mind in HR since the pandemic accelerated the global skills shortage and the great resignation. To attract great talent, organisations need to make the candidate experience easy and streamlined.
Candidates want a job application experience that is simple to use, and the best talent will likely drop out of application processes they find to be slow or complicated.
A big part of building a stellar candidate experience is examining how your organisation communicates with shortlisted candidates. Do they get proactive feedback? How are interviews organised and conducted? How effective is follow-up? How many hoops do they have to jump through? How long does the process take? All these elements show candidates how professional an organisation is and whether they would want to work there.
Candidate experience extends beyond the recruitment process itself to what the organisation has to offer. According to LinkedIn's Global Talent Trends, candidates consider compensation and benefits their top priority, as well as flexible work arrangements and work-life balance.
Quiet Quitting will Become a Hot Topic
The world has moved from great resignations to quiet quitting, which can be defined as doing the bare minimum at work to get by, without putting in any extra hours, effort, or enthusiasm.
Quiet quitting can manifest in a range of behaviours, from simply making the commitment to leave on time every day to extreme demotivation and disengagement. It can also arise as a reaction to the stress and burnout from the pandemic, and an attempt to regain work/life balance. Organisations are particularly concerned about quiet quitting because it results in employees who haven't resigned and yet aren't fully invested in the business and its goals, instead simply filling the hours of their day instead of actively performing.

Talent Retention and Engagement will Remain Critical for Business Stability
Related to both employer branding and quiet quitting is the need to engage and retain talented staff. Retention is a big focus for a number of reasons:
Although there is high unemployment, there is a global skills shortage in key areas

Scarce skills are being poached by competitors

It's more cost-effective to invest in employee retention than to hire and develop new staff

It doesn't pay to hire top talent if they don't stick around for long
One of the key ways top companies are boosting their retention efforts is by actively focusing on internal talent mobility. This includes increased time, effort and budget spent on employee development.
Organisations are also increasingly using assessments, metrics and analytics to map out their job roles and pinpoint employees who can fill those positions in future, enabling tailored development programmes and personalised development paths. Data-driven succession planning is key to mitigating risk by ensuring business continuity and developing more diverse pipelines.
Research supports the critical role of internal mobility in retention strategies. LinkedIn's Global Research Trends report shows that employees who make an internal move are more likely to stay at their organisation longer than those who stay in the same role.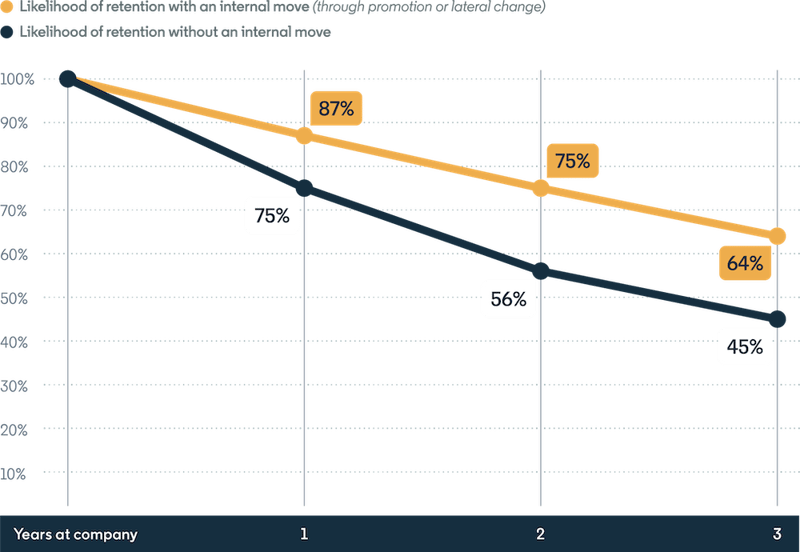 Potential will Trump Experience when Hiring New People
Many organisations put a lot of emphasis on past experience when hiring new talent. However, research shows this is one of the poorest predictors of future performance, with a correlation of 0.18 (where 0 is no relationship to performance and 1 is a perfect relationship).
According to Harvard professor of Organisational Behavior Myra White, "Organisations are filled with people with years of experience who do an adequate job but not a brilliant one".

In a global talent shortage, organisations should be seeking out potential, Agility and key skills, instead of past job experience. This is a significant shift in the way recruiters usually think, moving away from job descriptions based on minimum experience thresholds towards a focus on results.
Employees will Increasingly Seek out Flexibility and Remote Work
Remote working is not going away anytime soon. Candidates are increasingly seeking out remote work opportunities, while simultaneously remote work job postings are decreasing. For many employees, shifting back to a full-time office schedule is a deal-breaker. Zapier's 2022 Future of Work report found that 61% of professionals would quit their current job for a fully remote opportunity.
With this in mind, organisations that do not adapt to the demand for remote or hybrid work, where possible, will likely see an impact on their talent selection and retention. Recruiters can expect more organisations to offer remote or hybrid work set-ups in order to attract top talent.
The problem many HR leaders are faced with is how to maintain and improve culture when the typical office environment has ceased to exist? In 2023, many organisations will seek out the best of both worlds by putting hybrid work models into place, which combine the freedom of working from home with time in the office for relationship building and creative teamwork.
The role of HR should then be focused on creating policies and procedures that make remote working clear, easy and fair.
The Virtual Brain Gain will Help to Combat the Brain Drain
Remote working has opened up the opportunity for companies to find talent anywhere in the world. Because the skills shortage has varied impacts across regions, organisations can possibly solve their talent shortfall by casting their net further afield. A globalised remote workplace can help solve the brain drain by transforming it into a virtual brain gain.
Alongside this comes the increasing popularity of freelance or fractional employees. Some companies are even hiring fractional executives, who act in a senior role for a fraction of the time and cost.
With remote fractional work, professionals with niche expertise can be distributed across non-competing entities. This could be one of the solutions to the scarce skills puzzle.
Algorithmic HR and Analytics will Become more Sophisticated
Talent management is increasingly going digital and incorporating technological advancements like analytics, predictive data, artificial intelligence, algorithms and gamification. In the long-term, the prediction is that data automation and analytics will be integrated into all HR functions, including hiring, firing, onboarding, engagement and retention.
Recruitment technology is one of the key ways companies are smartening up their HR processes. A recent recruitment stats survey found that 68% of recruiters felt that investing in new recruitment tech is the best way to improve hiring performance.
Technology solutions include recruitment chatbots that engage with candidates, AI software to read CVs and assessment platforms that enable high volume screening for all applicants.
Diversity and Inclusion Initiatives will Grow
Diversity and inclusion is already a hot topic and focus in this area will only continue to expand in 2023. Not only has research found D&I to have a positive impact on engagement and turnover, but it's also important to candidates and Gen Z entering the organisation.
With organisations setting their sights on more ambitious D&I goals, HR professionals need to work out how to remove as much bias as possible from hiring, promotions and succession planning. Other organisations will ramp up their diversity metrics and start actively tracking this throughout their talent lifecycle.
Read our diversity and inclusion case study on how Learning Agility was applied to create high-performing, inclusive leadership teams at one of Europe's leading banks.