How screening tools help you make the best hiring decisions
In recruitment, screening large volumes of candidates is not a quick task. However, having the right tools in place makes this process more efficient and allows for better decision-making.
Recruitment is often seen as tedious, especially when dealing with large volumes of applicants and hundreds of CVs. In addition, being objective when making hiring decisions can become increasingly difficult when screening a large number of candidates, and bias can easily creep into the process. Having the right tools can make this process more manageable and objective, saving you both time and labour.
The Lumenii volume screening solution allows you to make strategic, bias-free hiring decisions based on comprehensive data from psychometric assessments. An advantage of using this tool is that it's a fixed-cost solution, meaning that every individual who applies can go through the screening process. This removes the initial laborious step of manually sifting through CVs. In addition, the candidate screening platform can create a summary of results that ranks candidates on cognitive ability and how well they fit the role, enabling you to quickly and easily select the best candidates.
Using this tool provides you with the opportunity to further screen from the initial shortlist by downloading individual reports for each of your top candidates. These reports are customisable and include competency-based interview questions that can be used within a structured interview.
By combining detailed reports, CV insights, references, and competency-based interview screening, you'll be empowered to make informed and unbiased decisions.
The predictive validity of candidate screening
The groundbreaking meta-analysis by Schmidt & Hunter (1998) summarises over 85 years of research into selection tools and job performance. The relationship between these criteria and performance is referred to as predictive validity.
Their research proves that the traditional recruitment approach, which relies on manually screening CVs as the first step in the process, is over-reliant scientifically poor criteria such as job experience and educational history.
In contrast, they showed that objective psychometric measures of potential, including personality and general mental ability (GMA) had the strongest relationship with future performance.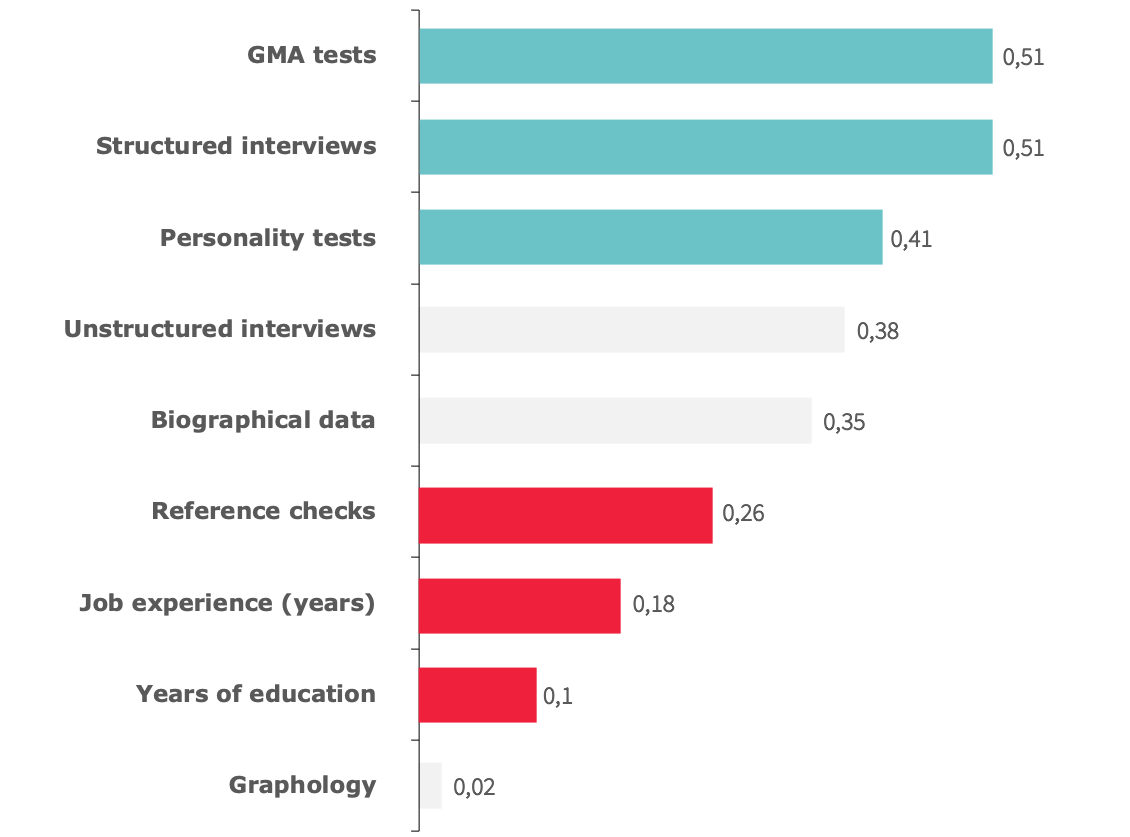 When aiming to recruit the best talent, it therefore makes sense to screen against objective potential as the first step in the process. This approach is enabled by a fixed-cost volume screening solution, ensuring zero talent waste.
The ROI of candidate screening
Clients report saving up to 90% of recruitment time using volume screening. By pre-screening your candidates, you can select the top talent and best fit for the role. That means greater job retention. In addition, screening all applications ensures that you do not miss anyone who has the potential to be a star performer within the organisation.
Another plus to using this volume screening tool is that it is cost-effective. Screening as many people who apply for the role at a fixed cost means you're no longer paying per report.
Organisations are always looking for more efficient and cost-effective ways to stay relevant and thrive in a competitive landscape. Streamlining recruitment processes is one way you can assist your organisations in achieving this goal. Why not be the HR hero in your organisation?