The theory, competencies and how-to of Leadership Agility
In times of economic uncertainty, organisations find it challenging to compete and grow their profits. Companies with high agility have a built-in competitive advantage: they are more resilient, they can adapt more quickly and they are equipped with the skills to deal with disruptive change.
Research supports the critical role that agility plays in individuals, teams, leaders and the organisation as a whole. A McKinsey study related higher agility to improved operating efficiency, increased employee engagement, faster time to market and higher revenue. Another recent global survey found that organisations that were able to build a very strong agility-focused culture saw a performance improvement of up to 235%.
Leaders are the architects of organisational agility
While most organisations understand the value of agility, few companies strategically prioritise the development of this critical skill set. The "agility gap" refers to the disconnect between an organisation's need to keep pace with change, and its ability to develop a truly agile culture.
To bridge the agility gap, businesses need to start by building Leadership Agility, at all levels — not just in the executive suite. Agile leaders set the direction for organisational change and steer their teams in the right direction. They accomplish this by not only living the agile values and behaviours themselves, but also by structurally instilling these in the organisation and its people.
What is Leadership Agility?
Leadership Agility is not about the speed of responding to change. It's also not simply about being adaptable. Instead, it is the ability to take sustained, effective action in the face of uncertainty, complexity and change — for the good of individuals, teams and the organisation as a whole.
This ability to take action and make effective decisions means that the business is able to move forward and make progress. This is key to building resilient organisations that survive and thrive amidst change. Conversely, inaction in the organisation renders it unable to leverage emerging opportunities, which could lead to it being outcompeted by rival companies.
Bill Joiner & Stephen Joseph, the authors of
Leadership Agility
, conducted many years of research to be
tter understand how agile leadership plays out in different organisational contexts. They define Leadership Agility as a meta-competency that impacts all other skills held by a leader. They also found that leaders who are most successful in times of change display these four key competencies:
Context-setting:

being able to frame and execute on strategic initiatives, rather than tactical or incremental changes.

Stakeholder engagement:

being able to effectively understand and engage with key stakeholders and create alignment.

Creativity:

being able to transform complex, novel problems into solutions and results.

Self-leadership:

being able to seek feedback and self-reflect in order to develop new, effective behaviour.
A framework of agile leadership behaviours
What behaviours are required from agile leaders? What behaviours do they need to instil in others? Establishing a framework of these behaviours provides the foundation to understand, measure, benchmark and develop Leadership Agility in organisations.
The traits of Leadership Agility can be mapped to five dimensions: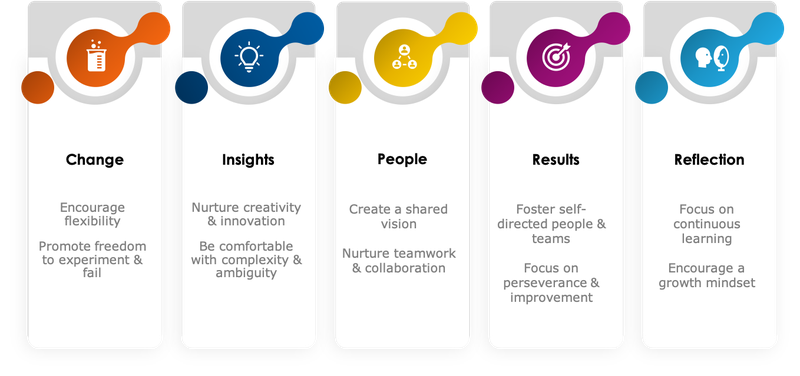 Change:
Agile leaders are flexible in response to changing demands. This means actively anticipating change and being able to iterate on plans over time — and as the goalposts shift. Agile leaders work to instil a culture of ideas, where teams can try something new with the freedom to fail and without fear of punishment.
Insight:
Agile leaders need to be equipped to solve problems that have never been encountered before. This requires a focus on effective judgement in the face of complexity and ambiguity. These leaders also emphasise creativity, innovation and collaboration when problem-solving.
People:
Engaged employees are essential for performance. Agile leaders recognise this and focus on building a shared vision with shared goals. They create and nurture a culture of brainstorming, collaboration and teamwork.
Results:
A large part of being agile is about empowering employees to make their own decisions and to develop self-direction. Being an agile leader is also about being able to react quickly in response to needs and demands. This is a critical skill to avoid falling behind one's competitors.
Reflection:
In line with the self-leadership competency identified by Joiner & Joseph, a fundamental part of
Leadership Agility
is the ability to seek feedback, listen, reflect and adapt. These leaders recognise that development is an ongoing journey and that they need to encourage continuous learning.
Building agile leaders: where to start
To be a truly agile organisation, you need to "live" agility through your culture, actions, values, mission, vision and goals. Culture change can be daunting and depends on the context of the organisation. However, effective leadership is a universal necessity when facing an organisational culture shift.
Nurturing Leadership Agility in your organisation starts with an understanding of where you currently are. This means measuring your leaders' agility via an objective methodology and then benchmarking where you stand against other companies. This process will provide insight into:
Your leaders' natural strengths and most effective agile behaviours

Key development gaps, both for individual leaders and the management team

Where to start and which behaviours to focus on in development

Which behaviours to look for when bringing new leaders into the business

Who can be identified as change agents, coaches and mentors in the development process

Areas where you may have a competitive advantage or disadvantage
Interested in measuring the agility of your leaders?
Request a free, no-strings trial of our Leadership Agility solutions. We offer scientific insights for selection and development, benchmarking, research, team analyses, workshops and more.